party at kamran's house. enjoyed very much. played on the computer. he has a Pentium 133 Mhz, 1.2 GB HDD, 6X CDROM (Creative), 16-bit Creative Sould Card, SVGA Graphics, 8 MB RAM, 3.5 inch drive computer.
the bedroom set went today. i.e, it is sold now and is no longer in our home. slowly slowly we're getting ready to move permanently to Canada.
sheraz is a very weak and emotional as well as nervous person. i mean, when sir bilal slapped him he came back, sat on his seat, and cried his heart out in front of the entire class. like shit man! what was there to cry about ? kamran didn't come to school today so he missed all the fun. sarsoh was talking with sheraz when bilal, who was already in a bad moon, called sheraz and asked him where they were reading. sheraz didn't know and he told him so. so the teacher slapped him. i was sitting with sher on the seat behind him. he and all of the class is now really really angry with bilal. sheraz is just a kid. bilal forced out all his temper on him. moreover he slapped a senior student. that's bad. this happened in the 4th period. he was shaking like a helly after he was slapped.
sir raees alvi was absent today so the last 3 periods of Bio were free. we called sher out of his Maths class by sending aleem. then sher, talha, and aamir mubashir got in a real bad mess due to khaldi. he took them to the principal i.e criminal manzoor ahmed and lied on front of him. the principal told him to suspend them from school but SPE intervened and now a trophy of sher will be confiscated.
came hom. the packing is on full swing. it feels really weird that tomorrow will be my last day in this school. i am also selling 10 novels tomorrow. they are
saad mukhtar : Insomnia, Death In The Air
saad muneed : War Of The Worlds
rahat : Wind In The Sage, The Regatta Mystery
irfan : Tale Of Two Cities, Hardy Boys: Clue Of The Broken Blade, The Black Arrow
farukh : Hardy Boys:Road Pirates
shahid : 20,000 Leagues Under The Sea
went on Isha prayer. met asad, sheraz, arslan ahmed, talha, sher, and kamran. wandered around for a long time. went to Stereo Shadi and Waseem Optics. came back. packed some stuff. didn't sleep all night. kept writing etc. well, bye now.
today was my last day in Pakistan Embassy School, Jeddah. i hadn't slept all night yesterday. at 7 in the morning i went and took a long bath. then ironed by clothes, wore them, woke up mumma and left for school. my bag contained this diary, slam book, rough copy, and 11 novels. all of them were for sale. on the way to the school i felt so weird. my mind was saying, "sikander ! you won't walk on these streets with your school bag on your shoulder going to school at 8 in the morning again." this was the last time.
reached the school. sarsoh and aamir khan were there. i placed my bag as usual on the last seat. sheraz came. placed his bag next to mine. kamran came. placed his bag next to mine and sheraz. khurram and awal khan sat with sarosh and aamir. aleem gave me 30 stamps. the first period startd. sheraz moved over to the last table in B line. the first period was Sir Munir Qurieshi's Chemistry. he returned the answer sheets of yesterday's test. here are the marks of some students :
Chemistry Test Results
Sheraz
05
Sikander
3.5
Imran
5.5
Sherazam
1.5
Rahat
5.5
Saad Mukhtar
04
Muneeb
08
Sarosh
05
Shumail
7.5
Hassan
5.5
Zuhaib
4.5
Amir Khan
3.5
Mueen
06
Sohail
3.5
Aleem
3.5
Nabil
09
Imran N.
5.5
Talha
4.5
Shurjeel
7.5
the following students didn't give the test : kamran akhter, kashif shah, fawad ifthikhar, khurram khan, asad ifthikhar, hesham ahmed, imran yousuf, fahad mushtaq, khurram sharrif, imran khan, mohd. ali tahir, yasir tasleem, tayyab, and sameer akram. Munir didn't say much to anyone. told us how to perform the practical. it was the preparation of Potash Alum. today's seating arrangement was :
Line A
imran nasir, nabil ahmed sh., talha, nehri, khalid alvi, hassan, najeeb, shurjeel, sameer, ahmed zafar, adnan, imran yousuf (II), aleem, fawad, najam
Line B
naveed ahsan, sharjeel munir, imran khan, shahid rizwan mian, khurram sharrif, yasir tamez, fahad mushtaq, hesham, sherazam, asad, kashif shah, sheraz
Line C
mohd. ali tahir, imran yousuf, rahat kheshgi, zuhaib qaisar, irfan, tayyab, saad mukhtar, jatoi, yasir tasleem, sarsoh, khurram khan, amir khan, kamran, sikander
Line D
omer, mueen, saad, muneeb, sohail iqbal, maqsood bhatti, tahir bashir, aamir mubashir, zeeshan, shumail, imran, noman
nothing happened in this period except that he disgraced me indirectly by saying that there are students sitting in this classroom who have plans not to give one paper or all of them. they are destroying their lives, etc etc.
then came Bio's Raees Alvi. it was a good period. he dictated something about the Zones of Steady Water Habitats. i wrote it down for kamran while he fiddled with his pen. i searched sheraz's bag for the last time today and in the process broke my nail. physics period came and jan-e-alam started the oral tests again. i kept standing because i didn't give the reason to my answer and just said "yes."
in english's period i was chosen to be the one who would stand up after the attendance and ask sir bilal why he slapped sheraz yesterday. i couldn't do it. i already knew it was my last day in school today .. how in the hell could i be serious for anything today ? anyway, sir bilal apologized himself. he said sorry to najeeb and sheraz. later when i and all the others made sheraz go and give the Eid card to sir bilal he went to the brink of crying. ok! the man is a decent guy and realized his mistake in hitting a senior student in front of everyone.
urdu's sir came but we all kept talking. then came the practical's period. all of us went to the laboratory and the practical started. nobody took it seriously. not even Munir. me and kamran went to the library. i decided not to steal any book. i could've by issuing one on my card and then not returning it before going to Canada. in the last period, before going to the library, i took some ash from underneath the surface of the wire guaze and spread it on fahad's forehead in a straight line so that he looked like an indian.
then the whole group (mine) started it. when we came back a fight started. everyone was destroying each other's shirts. me, sherazam, asad, zuhaib, sarosh, aleem, kamran, imran, khurram khan, etc etc. Munir didn't say anything when he saw us in this condition with ash all over our shirts.
i sold about 6 novels today. when we were going downstairs Jano met us and looked at us unbelievingly. we hurried down the stairs and asad ifhtikhar hit a teacher. went to the back of the school where a fight was going on. sarosh and zuhaib's drivers didn't come so they came to my house at 1:30. zuhaib left at 3:30. sarosh left at 4:30.
went to meet kamran in the evening. changed shirts in the left. he has my cotton t-shirt and i have his grey zip t-shirt. kamran's father invited us on thursday on an iftar party. and the day ended soon after i got home.
so i learned today. i had been alone here in jeddah since 26th decemeber 1996. sheesh, that was last year. well, paa was in canada at the time, skid in canada too, and maa and sunny in karachi, pakistan. i had a long argument with paa and i eventually won and and so i stayed alone in jeddah, saudia. paa had given me 7000 SR in cash to spend during his absence. i gave back 3000 SR to maa today. where the other 4000 SR were spent is another matter. i have, however, prepared a list and i will copy it after a few pages.
i made a great mistake that i cannot undo. i didn't write during the period of 27th december 1996 and 26th january 1997. here are the things i remember. the very next day when my father left for canada, kami suggested in school to go to PIZZA HUT for lunch. and i agreed. so we ate pizza's (ALL YOU CAN EAT). i was the guy with the money so i paid the 40 SR. the next day me, shahzeb, ahsan, and junaid went to POPEYES. it wasn't that good. in the afternoon or night (8:30 pm) imran and i were wandering near the school when imran suggested to go to AL-BAIK. i immediately agreed. after all, who's waiting for me at home ?
imran's parents had to go to makkah. i had to get a diskette from sheraz so i told imran to let us first go to sheraz and then to his house. he told me to go and collect the diskette and then come to his house. i didn't want to go to sheraz's house alone cuz the guy makes me nervous. anyway, i did collect my diskette and told him that me and imran were going to AL-BAIK. asked him if he wanted to accompany us too. he went, asked for persmission, came and told me (as always) to wait for 2 minutes. it's always 2 minutes. anyways, he seemed too astonished when i told him about my financial condition. we went to AL-BAIK and ate the chicken broast. i bought and gave the broasts to both of them. and thus 33 SRs went there.
i kept going to school regularly. went to kami's one day and stayed for a couple of hours. on 01/01/1997 sher gave us a party. the day was wednesday. we had planned to cut school and go to Ballad or something. hussam, kamran, sher, hesham, and i were going. sher phoned and reconfirmed that i was awake. kamran reached here first. then hussam and sher. and last of all hesham. hussam ironed his shirts and pants. kami borrowed my grey shirt. we dressed, i.e, changed our uniforms and headed for ballad.
unboarded at Mehmal Centre. enjoyed the day very much. bought THE ROCK for 30 SR from a phillipino. also bought METALLICA - LOAD, BUSH - SIXTEEN STONE, and SWEETROCK. then all of us ate AL-BAIK. reached home and when we got out of the limousine, hesham blurted out, "sikander, a girl named aasia lives around here somewhere. do you know her ?" and i replied, "are you asking ME ?". and when i looked up to their gallery, aasia's mother (basheera) was looking down at us.
at noon, me and shahzeb went to AL-RAYA Supermarket from where i bought a NEWSWEEK. jojji's maamo, i.e, brother of mother, came from Pakistan. he brought with him about 20 CDs. jojji doesn't have a CD Player so i gave him my AIWA NSX 990 Mini HiFi deck for recording on the third of january. i took his VCR and watched 12 Monkeys, The Rock, and Apollo 13. got my deck back on 4th january.
talked to puppa and asked him permission to buy a VCR. got it. so went with hussam to International Market on the 6th and bought a JVC VCR for 650 SR. the original price was 720. the next day was SportsDay. this time (after a 2 year delay), we got access to Al-Ittehad Sports Stadium. but only those who participated were allowed to go to the stadium. the rest were to stay in the school, i.e, in their classrooms.
so on 7th january, sarosh, khurram, imran, and sheraz came to my house. watched INDEPENDENCE DAY. sheraz, sarosh, and i were watching it for the first time, khurram for the second, and imran for the fifth. it was an awesome movie. imran and i also played Mortal Kombat 3 on my PC. we both love it. i always play by Kung Lao and he by Lui Kang.
at night, i rented SENSE AND SENSIBILITY and went to kami's house. i slept while watching the movie that night. the next day, 8th, i rented SABRINA from AQEEL Video. the cast is harrison ford and julia ormond. the day was wednesday. i had a bad stomach ache during Chemistry's practical. so did sheraz. he went home. rahat gave me SPICE GIRLS and i recorded the whole album. me, shahzeb, ahsan, junaid, and hammad went to PIZZA HUT where i ate 12 slices and 3 glasses of Pepsi. jojji ate 14.
thursday, 09th, saw me going to Kababsh restaurant with talha for dinner. talha was alone in jeddah like me since the 5th. ate jal frezi, dal maash, kher, falooda. watched DIE HARD III and BIG. zafar uncle came and slept. and then came friday, the bid day. why ? well, ahsan was born today, sixteen years ago and also RAMADAN started.
ate sehri and went to tawoon mosque with talha and shahzeb. in the afternoon, we were invited to ahsan's for an iftar party. i gave him two cassettes, E-Type - The Explorer and Ace of Base - It's A Beautiful Life. me, fahad, shahzeb, ahsan, junaid were present alongwith others. played SNES and 3DO. ahsan has a PC, SEGA, SNES, 3DO, NEOGEO, and SONY PLAYSTATION. he's real rich. but he still isn't happy. now he wants to buy a NINENDO 64. me and ahsan watched all three parts of DIE HARD. everyone was great.
i don't remember the date of the day talha and i went to Shoula Centre but i do remember it was after 10th and before 20th. it takes about 15 minutes by car and we went on foot. bought a shirt on the way from AL-HARAM. reached the centre and talha bought 5 CDs. gave one to me named 100 Adventure Games. All of them were shareware. he also bought a Phil Collins cassette. didn't have any strength left for coming back home on foot so we stopped a taxi. me and talha also sat on the main entrance platform of our school at 2:30 am in the night and ate burgers and drank pepsi. then went to Tihama park were we sat and talked till 4:30. then came home and slept like a dead horse.
najeed stayed at talha's house for three days. both of them came to my house at 3:30 and we watched JHONNY MNUEMONIC, MASK, and two cassettes of MTV. talha made a mixture of beer, pepsi, water, and apple juice. the smell of the resulting liquid was unbearable. i took one sip only. talha drank four glasses and then slept. we sliced a pizza with the MULTIGAMES CD. enjoyed ourselves very much. rented MISSION IMPOSSIBLE, CABLE GUY, etc.
monday, 20th january 1997, was one of the best days of my life. i had to go to school but i was feeling very very sleepy. so i wrote two notes to kamran and najeeb and gave them to talha and slept all day long. told kamran to return my book to the librarian and to arrange with imran, sarosh, sheraz, and khurram what to bring to the One-Dish Iftar Party. told najeeb to bring me SLANG. then slept till 12:50 pm when kamran phoned me and woke me up. he said hussam is coming to my house. as hussam went to tuition directly from schook, instead of going home, he came here. i started cleaning my room. he slept while i kept cleaning till 4:30. then took a bath while he ironed his clothes. when i got out, i was wearing a vest and towel. i put on my shoes, locket, and took my guitar. then hussam took this picture :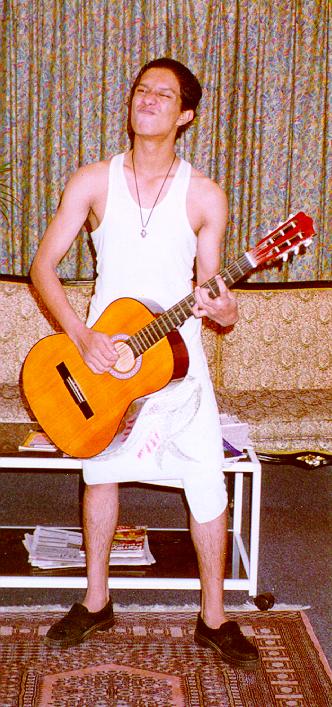 great, isn't it. as soon as he snapped this shot of me, the bell rang and sarosh came. he brought samosa's and fruit chat. the came kami and sheraz. they brought two pepsi's. then khurram (chickpeas) and last of all imran (kababs and samosas). i ordered two large Super Supreme Pizzas and two salads from PIZZA HUT. the total cost was 122 SR. we took photos. kamran talked with sadia. we all listened secretly. played SNES and PC. sarosh changed my windows password and refused to tell me the new one. anyway, i corrected the problem. he had changed 'dear' to 'suck my ass'. god! i do hate the fellow. but he's a good friend too. sheraz left at 7:45, then kami and imran, hussam and khurram, and last of all sarosh at 11:25. i enjoyed myself throughout the day.
by the way, i forgot. on 15th january was hussam's birthday and i went to his house on the 16th. went to Jamjoom centre and bought him a model of BMW. also bought the locket for myself that day. on tuesday, 21st, i held a part for ammar, omer, shahzeb, ahsan, and junaid. on wednesday, talha and i iftared at imran's door. at night we three went to WATANIA and i bought a Stephen King poster while talha bought ID4. talha came at 5 the same night and we watched HAPPY GILMORE and then slept. he went home at 12 the next day. on friday, i delivered free Iftar meals to kamran, ahsan, and sheraz. on saturday, i slept the whole day. even missed iftar by waking up at 6:45.
and then today maa and sunny came home. sunny is much thinner now. maa is the same. they brought LOAD for jojji, two belts for shahzeb, TULSI for me, etc etc. they slept the day away and i decided not to go to school tomorrow cause we will start packing for Canada.
i am a big fool cause i haven't written in this diary for weeks. even though i wanted to and even though major changes and events took place, i didn't get a chance to write. i was sleepy whenever i remembered that i had to collect the days happenings. even now, i ain't at home but am in school watching professor Jan-e-alam draw an illustration of a Nuclear Reactor. He's through with it now. So will write either at home or in the next English period...... ah! good news. he's dictating a lecture on above mentioned topic. so i can easily write in my diary cuase he won't know what i am writing.
i reached the saudi airport from pakistan on 27th i.e, Thursday. paa and irfan uncle were sitting where i had advised them. i went through Passport Control easily. the customs however bugged me. it isn't customs but the saudi security checks your luggage for any sign of liquor, pornography, and things like that. i was wearing a suit cause paa had told me to. the official checked my luggage thoroughly. but he didn't get to the films. i am a master of deception. i had APOLLO 13 and THE MAN WHO SAW TOMORROW with me. they were inside the thighs of the Calvin Klien jeans that i had bought for kamran. the pants were folded and were in the centre and bottom portion of the suitcase. so the jerk didn't catch me. i got out after being thoroughly checked and felt over by another jerk in the Men's Search Room. Man, pakistanis are really notorious around here. finally i got out. felt good.
we sat in our Mercedes and it felt great. everything so clean and all the roads so smooth and spacious. reached home after dropping irfan uncle on the way. our home is really big. and my room is the best. i love it here. paa's flight to canada was scheduled to leave tonight at 1:40 so he had to pack and go to the airport before 11:05 pm.
and he left. i talked to maa in pakistan on the phone and i have no recollection of it. paa says that i talked 5 minutes at least but i can't remember. he bought two shoes, an overcoat, and some other things before leaving. and on the night of thursday i was left alone in Jeddah, Saudi Arabia.
paa actually left in a taxi and i was downstairs (naturally) when he left. shahzeb was there too. i stayed downstairs afterwards. went to baqqala and bought some pepsi. then came home with shahzeb. he stayed till 2 in the morning. the time flew past like a bullet train. we kept playing on the computer; Mortal Kombat 2, Street Fighter, and yes Lady Love. paa has left around 7k with me. isn't that a little too much ?? i could've survived in a thousand.