when i was grade 3 or 4 i took piano lessons for a while but i quit soon because i didn't enjoy it so much. now i forgot everything about piano. i regretted it a lot when i saw my friend play piano so well a few years ago.
so i started to have piano lesson which i have wanted to do for so long. especially after sikander left korea, i need something to focus on and feel happy about it. i searched several piano lesson places and found one very near my house. it opens until 10 pm, monday to friday which is very nice for me because i can go there even though i finish work late.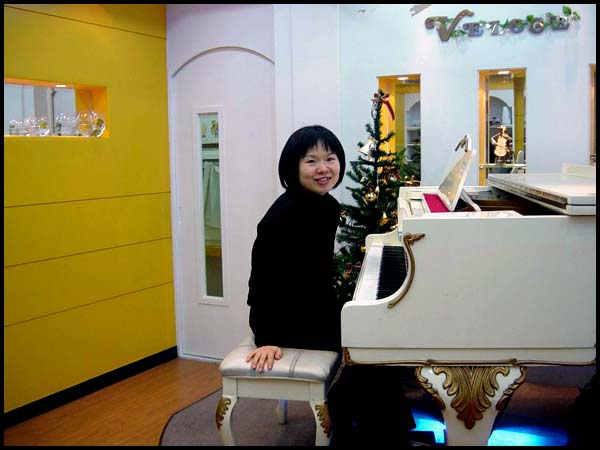 i was so surprised that i still remember some stuff on the piano music book. when i was a little little kid, i didn't realize how nice piano sounds, and now even with my clumsy broken piano skills, the sound is still very impressive to me :) :) who knows one day i play this music (george winston's canon) with my ten fingers.

lets see.. i have my laptop, two water bottles, nero wolfe mystery, tv remote, dvds, cell phone, benylin tablets, and a tissue box on either side of me. i'm all set and ready to relax. indeed, this current bout of the cold / sore throat / runny nose attack has been the most luxorious and relaxing one yet. i caught it from thrawn who caught it from one of his friends who apparently brought it from bangladesh... an international virus that travelled thousands of kilometers to end up fighting my immune system. i hope no one else catches it from me and i destroy each and every single one of them.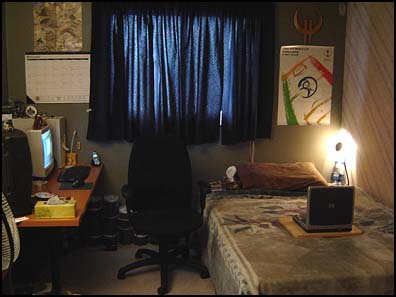 last time i was sick in ottawa, i had lots of
miso soup
. miso soup during cold or flu type of ailment is an excellent choice. hiromi was nice enough to bring some more from her trip to japan. none of the grocery stores in ottawa had them.. at least lunato and i were unable to find them anywhere. i haven't explored any toronto / mississauga japanese grocery stores so i don't know if they're available here.. hopefully yes. the packets look like
this
and if you know where i can find them, please let me know. arigato.
i was looking forward to having no work to do over the weekend so i guess it was perfect timing for my cold. i've spent part of friday and all of saturday just lying in bed with the laptop and nero wolfe. sleep and read and watch stuff. yeah... :)
wireless internet is just amazing. i know i am a few years late but i find it so cool to be able to pick up the laptop and move it around and still be online. <neo>whoa!</neo>. and imagine, most algonquin campus had wireless internet available for students. as long as you have a wireless adapter in the laptop, you're online anywhere on campus. man.. the possibilities.. browsing n classrooms, during lunch, during time off between classes etc etc. carleton's network was just horrrrible and would go down repeatedly. i hope its better now.
last year i went skating for the first time.. and haven't done it since then. i wanted to in seoul but the timing didn't work out. i was horrible at skiing but comparatively much better at skating. didnt fall a single time.. unless you count the time when lunato just pushed me on purpose so that i wouldn't keep boasting about how i didn't fall a single time. cheater !!
the third season of the apprentice is a bit boring. i think it should pick up and become more interesting half way through the season when we get to know the candidates a little better. craig, chris, and tara on the Networth team don't seem to be in the show at all. i barely see any of them. i was happy when harry got fired. he was a horrible leader. same for kristen. john seems to be the only decent worthy-of-apprenticeship candidate on Networth. On Magna, everyone seems to be an idiot except for alex and todd todd but todd was the first one to be fired this season so he's gone. he just made a bad bad mistake of not getting trained himself so he could jump in and help out the rest of the team during the Burger King task. i think john deserves to be one of the final two candidates.. and hopefully the finale wouldnt be a colossal disaster like season two's finale... two and a half hours of "i am donald trump and i haven't made up my mind yet" + cut to commercial. ugh
anyhow, after two days of resting, i'm a bit bored and aching to get back to work. yeah yeah, i'm sure i'll be whinning and saying "too much work" soon enough :P
today is skid's birthday by the way so happy happy birthday to him!
January 19th 2005 was one of the coldest winter days of the year for seoul city but it was also the scheduled day for the first South Korean Shackmeet. for those who don't know, seoul is the capital of south korea and is quite a mountainous region as you can see in this picture.
lunato's work finishes at 6 pm so i wrapped up my work for the day and left the hotel at around 5:30 to reach her office on time. i took the subway to get to her office because i love subways. transportation is extremely cheap when compared to north american prices. the stairs to the subway stations in seoul just keep going down and down and down... some shopping malls have 8 levels of underground parking !! crazy !! the big subway stations where more than one of the 10 subways lines intersect each other look like some sort of space ship hidden underground just waiting to emerge and wreak havoc when the north koreans attack. the airport is pretty damn cool as well.. but i'll get to that later
i picked up lunato from her work place and met her coworkers there. they were very nice and one of the supervisors gave me a 2005 Philakorea (a World wide stamp exhibition held in South Korea each year) stamp booklet and some seaweed (no really .. fried and salted seaweed is awesome).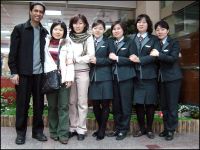 after saying goodbye we were on our way to meet xphil near Gangnam subway station. we were supposed to meet near Exit #7 and we arrived there on time.. but no xphil in sight. well i didn't really know what he looked like either. i tried to imagine what a korean shacker would look like but i had no idea how to imagine that.. so lunato and i just stood there and tried to guess who he might be. there was one korean guy wearing a baseball cap standing near the exit stairway and he kept looking my way every now and then so i kept looking back occassionally as well... but he started to walk away as soon as lunato and i decided to walk towards him and ask him his name. foreigners are quite rare in seoul and i guess i must've scared him off when i started towards him. after a few minutes we thought it best to call him and ask where he was. it turns out that he was waiting for us at the top of the stairs while we were waiting for him at the bottom :P
xphil is much much taller than i imagined. actually he's much taller than the average korean male. after the initial "hey hello how are you and what do i call you", we started walking away from the subway station with no specific destination in mind. since it was evening time and all of us had just finished work, we were quite hungry and decided to go somewhere for food. it was freaking cold outside anyways. there were lots of restaurants in the area and it took us some time to decide where to go. xphil didn't really care what kind of food it was as long as he was inside and not outside in the cold. it was only -4 or -5 hah.. canadia goes down to -40s during winter my friend ! eventually we found a restaurant called Bong Chu Boiled Chicken and since i dont eat pork, it seemed like a good choice. and indeed it was.. the food was awesome.
we talked about what games we're playing ( lunato's one and only game is Zuma but she enjoys watching me play Rocket Arena III or Counter Strike or whatever ) , our impressions of half life 2, best moments of half life 2, WoW and i explained how i dont like MMORPGs because they take up far too much time, tv shows (he hasn't seen Sopranos... wtf ... and i haven't seen 24... wtf ), video cards, and how we found the shack; lunato though me, i through bookmarks folder in my older sibling's computer, and xphil while he was working as a gaming journalist of some sort.
we kept eating, drinking, and talking till around 9 pm. xphil's ride home would take about an hour and tomorrow was another work day so we decided to say tatahs at that point. we went home while lunato and i explored a little more of seoul before taking the bus back and retiring for the day. it was a fun evening and we made shack history together :)
and finally, here are the Incheon Airport pictures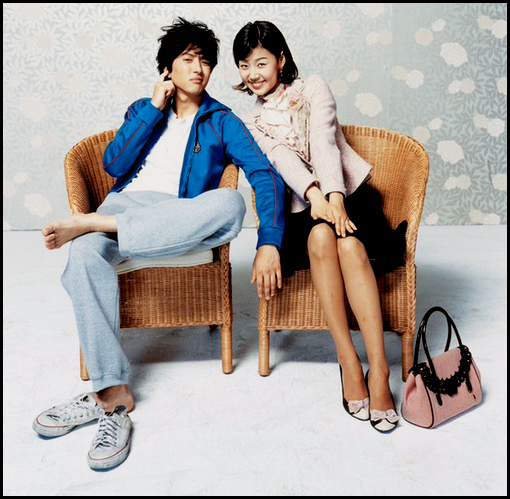 "My boyfriend is Type-B", quite a funny movie. what is your blood type? here is a test to check which type you are...
if you saw your wife having an afair with a stranger when you just came back home... you are standing outside the door and from the window you could guess what is happening inside by their shadow. what would you do?
you don't know what to do holding the door nob
you kick the door open to kill the guy who was having an affair with your wife
you hide yourself and steal a look to enjoy the intimate scene
you just call a cop to report without any second of hesitating. (to help your understand, in korea you can report your spouse's unfaithfulness to police)
so what is your choice? if you chose #1. you are helpless A type. you are bad at making decision but your heart is very sincere. if you chose #2, your blood type is O. you are very straight-foward and passionate (actually most prefered blood type). oh your choice is #3? you are AB. you are considerate but have two faces. then the last #4 is type B. you are mean and idle. you don't take love seriously. love is just for fun to you.
oh, is your boyfriend type B? then watch this movie.. you just may figure out how to make your type-B boyfriend lose his mind with love for you :):)
i'm changing the subject, but isn't AB the worst? to steal a look at his wife having an affair?