When I found out that Jack Black's band The Tenacious D were coming to Toronto, I knew that I just had to buy tickets. lunato is a big fan of Jack Black and this was an opportunity not to be wasted.. even though this would be our third concert in November. None for a lifetime and then three at once in one month.. good times.
It was a very fun concert and we both enjoyed a lot. We were in the first row and had an excellent view. Jack Black stared into lunato's eyes for an eternity... three whole seconds..
Most memorable songs from the concert: Wonderboy and Tribute.
i managed to record some videos during the concert as well. you can view them here:
good times :)
Guns N' Roses in Toronto! thrawn had two extra tickets and convinced lunato and I to buy them off him. Guns N' Roses man! Guns N' Roses! all three of us, skid, thrawn, and I, we grew up listening to Guns N' Roses and have virtually all of their songs etched into our brain.
So, lunato and I went to the concert and wow, what am amazing concert. Simply spectacular. 4 and a half hours after the gates opened the lights dimmed all of a sudden and the intro to Welcome To The Jungle rocked the Air Canada Centre. Almost two hours later they finished the show with an extended version of Paradise City.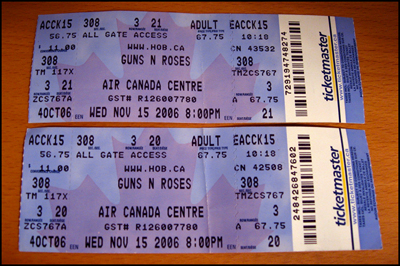 The pyrotechnics during the show were so damn loud but so well-placed and well-timed. Each time the fireworks went off it felt as if the roof would crack open.
The only complaint I have was that they didn't play Madagascar... but all the other songs.. You Could Be Mine, Knockin' On Heaven's Door, Nightrain, Sweet Child O' Mine, November Rain, Mr. Brownstone, Don't Cry, Yesterdays, etc. etc. were just great. The new songs, Better and There Was A Time are also very good.
Oh and Sebastian Bach opened for GnR with his classic Skid Row songs. What could be better? :)
"Sikander, I want to go to buy a winter jacket for your birthday together. I know it's a bit odd but I want to buy a jacket you like. Sorry for being too practical but hey, we don't want to get something just OK do we?"
We went to Yorkdale mall and got a nice Columbia Bugaboo winter jacket.
"sikander, I am so sorry, you know, I am so bad at making a surprise. It's boring to get a birthday gift like this, isn't it?"
"No, no I really like it. Thank you so much"
After winter jacket shopping, we headed for downtown to go the "The Decemberists" concert. It was fun.. if they are coming to your town, go and enjoy.
On the way back dooh called and said the first "happy birthday" to sikander. I didn't know it was already midnight :(
After we got home, I told asked: "sikander, I am so sorry to say this, but when was the last time you took a shower ?"
"Oh no.. really? Believe me, it's because we were in such a big crowd…..damn. Sorry"
While sikander was taking a shower I took out the new bathrobe I had bought for him and hidden in the superintendent's office for a few days. I laid it out for him with a Happy Birthday card as well.
"Whoa.. lunato, what is this?"
Hahaha sikander "happy birthday"
The next morning, his birthday, we went to IKEA for their $1 breakfast. We had wanted to have IKEA's breakfast for so long, but all the time failed to go there in time. Today we got up like 7 in the morning, and finally finally we made it. It was a nice healthy vegetarian breakfast.
Mom came over and we had a good time. We also went to T&T supermarket in Thornhill and sikander tried eel for the first time and didn't like it. Bulkbarn was right beside it so we bought a ton of stuff from there as well. Going to bulkbarn is almost a tradition now haha.
the first time i heard The Decemberists was when they played We Both Go Down Together on Conan. the odd looking bunch of musicians and their unusual mix of instruments appealed to me and I bought a few of their songs off ITunes.
lunato found out somehow and they were going to play in Toronto on 6th of November and she got tickets for us :D The concert was at the Kool Haus in downtown Toronto.. right besides the lakeshore.
lunato had been to concerts back home in Korea and my first and only concert so far was the Junoon concert in Toronto during Pakistan's Independence Day in 2001 or 2002.. I forget. So technically it was the first concert for both of us.
They played quite a lot of songs and interacted a LOT with the audience. It was a really enjoyable concert and they played our favourite song as well. I also liked Yankee Bayonet a lot and it is another fav song for us now. Some other notable songs: O Valencia, On The Bus Mall, The Perfect Crime, and Sixteen Military Wives.