How awesome is it that Roger Waters chose Toronto as the last venue for his 2007 The Dark Side of the Moon tour? Really really awesome! This was the second-best concert lunato and I have been to so far; the best was Guns N' Roses of course.
I made a lot of videos as well:
When I found out that Jack Black's band The Tenacious D were coming to Toronto, I knew that I just had to buy tickets. lunato is a big fan of Jack Black and this was an opportunity not to be wasted.. even though this would be our third concert in November. None for a lifetime and then three at once in one month.. good times.
It was a very fun concert and we both enjoyed a lot. We were in the first row and had an excellent view. Jack Black stared into lunato's eyes for an eternity... three whole seconds..
Most memorable songs from the concert: Wonderboy and Tribute.
i managed to record some videos during the concert as well. you can view them here:
good times :)
Guns N' Roses in Toronto! thrawn had two extra tickets and convinced lunato and I to buy them off him. Guns N' Roses man! Guns N' Roses! all three of us, skid, thrawn, and I, we grew up listening to Guns N' Roses and have virtually all of their songs etched into our brain.
So, lunato and I went to the concert and wow, what am amazing concert. Simply spectacular. 4 and a half hours after the gates opened the lights dimmed all of a sudden and the intro to Welcome To The Jungle rocked the Air Canada Centre. Almost two hours later they finished the show with an extended version of Paradise City.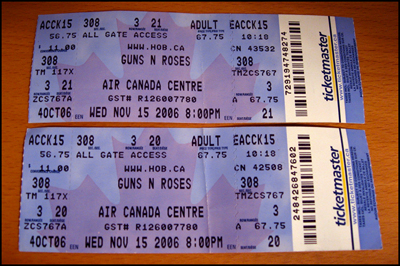 The pyrotechnics during the show were so damn loud but so well-placed and well-timed. Each time the fireworks went off it felt as if the roof would crack open.
The only complaint I have was that they didn't play Madagascar... but all the other songs.. You Could Be Mine, Knockin' On Heaven's Door, Nightrain, Sweet Child O' Mine, November Rain, Mr. Brownstone, Don't Cry, Yesterdays, etc. etc. were just great. The new songs, Better and There Was A Time are also very good.
Oh and Sebastian Bach opened for GnR with his classic Skid Row songs. What could be better? :)
the first time i heard The Decemberists was when they played We Both Go Down Together on Conan. the odd looking bunch of musicians and their unusual mix of instruments appealed to me and I bought a few of their songs off ITunes.
lunato found out somehow and they were going to play in Toronto on 6th of November and she got tickets for us :D The concert was at the Kool Haus in downtown Toronto.. right besides the lakeshore.
lunato had been to concerts back home in Korea and my first and only concert so far was the Junoon concert in Toronto during Pakistan's Independence Day in 2001 or 2002.. I forget. So technically it was the first concert for both of us.
They played quite a lot of songs and interacted a LOT with the audience. It was a really enjoyable concert and they played our favourite song as well. I also liked Yankee Bayonet a lot and it is another fav song for us now. Some other notable songs: O Valencia, On The Bus Mall, The Perfect Crime, and Sixteen Military Wives.
shekhar usually rents a car and drives to toronto whenever he visits but this time he decided to carpool with some people. shweta is in india pursuing her singing career and no one else was coming with shekhar so it would be quite inefficient to rent a car for the weekend. so we decided that he'll carpool and i would rent a car here in mississauga for the weekend.
he was visiting toronto because he wanted to meet his cousins before he went to india later this month and also because there was a concert he wanted to attend. raghav, juggy d, veronica, and thara were playing a gig in brampton. i had never heard these names before but i decided to tag along. better than staying home again for the weekend and playing counterstrike.
shekhar's cousin, priyanka, was already at the concert along with some of her friends. we joined them and had a good time. i didnt particularly like the artists. their songs were all in punjabi and i barely understood what they were saying. the one song that i did enjoy was performed by one of the backup guitarists. she sang while playing her acoustic guitar and i thought it was wonderful. but the crowd was a desi crowd, here to listen to bhangra and punjabi songs. so half the people left the hall for a breather outside while she played. too bad. i liked it!
later on when raghav, supposedly the main attraction, started singing his backstreet boy's oh-baby-i-love-you-dont-leave-me-whaaaaaaaa songs shekhar and i went outside. the girls were enjoying his sappy songs so they wanted to stay. in the meantime there were some indian sikh guys inside the hall who had drank more than they could handle, and had started pushing and shoving. this led to the cops escorting them outside the premises and telling them to leave.. now.
it was past 1 am by that time and the cops decided it was too late to let anyone back inside. so shekhar and i were locked outside and had to call priyanka and tell her what had happened. she came outside and tried to ask the cops to let us in but they were adamant and stood their ground. "leave, now." i took a picture of shekhar and his cousin talking on the phone while standing on opposite sides of a glass door.. funny.
afterwar the show we went to tim hortons, won some donuts and coffee from the Roll up the rim contest, and finally everyone went home. shekhar took the car and slept at his cousins after dropping me at home. long long day but an enjoyable one.
i recorded some videos as well. juggy d is the singer in the black leather jacket and he kept making that "rrrrrrrrrrrrrrrrrrrrr" sound.. the one thats used in "roll up the rim to win" ads. lunato has a really hard time when trying to make the continuous r sound with her tongue while it is very very easy for me to do. i think it is a special desi super power :P