sikander's dad asked sikander to rent a car for him from friday to sunday because he had to go to Montreal. so we picked up the car for him and we then met dad near Loblaws at Bayview village to exchange the cars. we had the van while he had the rented car. hmmm, car on friday night!
i checked the movie schedule and we decided to watch RENO 911!: Miami. the trailer of the movie looked hilarious. since we had a car we wanted to go a theatre that we cannot go by subway. we decided to go the AMC interchange in north york area near highway 7. ten minutes after deciding to watch the movie, we were on the road.
on friday night there is no way the highway would not be busy. but we didn't think of it when we left so we couldn't get to the theatres in time. on the way we saw another theatre, Cineplex Odeon, and we decided to go there instead. we got a 6:30 pm ticket but there was only one other family in the theater. where's the point to watch a hilarious movie in empty theatre?
we went to the customer service desk and told them that we want to catch the next show at 8 pm. she asked why and we said the theatre is empty. she said "so?" and we also replied "so?". to break this stalemate she pushed a form towards me and asked me to fil out the reason for exchanging the ticket.
to pass the time we drove to Vaughan Mills Mall. it is rumoured to be the biggest shopping mall in Toronto. it really is huge and the interior decoration is amazing. hardwood floor and marble tiles and very nice lighting. we walked around from shop to shop and then saw a huge shop called Outdoor World. the entrance to the shop was two big bears holding the shop's name. there was a huge aquarium inside this shop as well. they have really nice outdoor clothes for fishing, mountain climbing, camping, etc etc. and everything was "on sale" .. my favourite kind of shop. sikander insisted to buy me a black columbia winter vest. i really insisted not to get it.. but what can i do? right? ;) ;) actually there was a nice jacket for him too but it was only available in small and XXL sizes. thankfully is not XXL (yet).
an hour and a half didn't seem enough for the mall. we had to hurry back for the movie and we got nice seats in an almost full theatre. the movie was good and enjoyable. actually a more enjoyable part came later after the movie. we were walking out after the movie and a guy approached us to ask if sikander can answer some questions for his research. he said that he is going to give us a free movie ticket. i volunteered right away as well: "Can I do that too?" "No sorry, this is only for men between 24 and 35". hah, sexist and racist and every other -ist!
sikander answered the questions while i went to the washroom. he told me later that the questions were about the commercials before the movie started. we got one free movie pass that we can use until october 2007. nice.
on the way home we stopped at Galleria SM and bought some salmon sashimi... mmmmmmmmmmmmmmmm. i was craving for sashimi for so long. i didn't think that i actually can get fresh sashimi in canada. this salmon sashimi was wonderful. it not only tastes nice but it is also very healthy and is wonderful for your skin.
after 2 pieces of salmon sikander couldn't take it anymore and said thanks but no thanks. well, thank you! i can have all of it now.
as i mentioned earlier, last night dooh and i met at shekhar's house in barrhaven. we watched Underworld:Evolution (mainly because of kate beckinsale in a black skin tight leather suit... and vampires.. everyone like vampires!.. and also because there was nothing else worth watching) at the new Barrhaven theatre (small theatre but close for all the people living in barhaven). the movie was a sequel to Underworld and i had forgotten most of the first movie so couldn't really follow what was going on in this one. in any case, the vampire and werewolf fights were pretty fun to watch.
later we ordered pizza and went to the basement and started watching the Die Hard movies; Die Hard [1988], Die Hard 2 [1990], and Die Hard: With a vengeance [1995]. my personal favourite one is the second one. shekhar was really sleepy so we had to stop after watching the first two and decided to watch the third the next day... today. good times.
after finishing all three movies, we dropped dooh at home, and then i went to the bus station to take a Greyhound bus back home to mississauga. it was a fun weekend and hopefully i'll get to repeat it again. there are so many excellent movies that neither shekhar nor dooh have seen. i have much work to do to get these two up to date.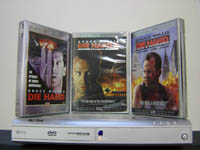 btw, here is dooh's writeup about the weekend.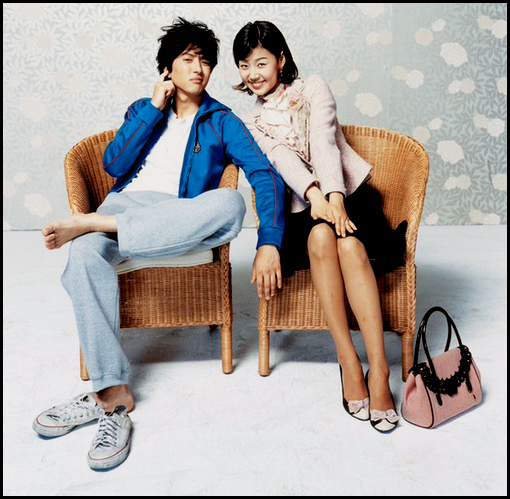 "My boyfriend is Type-B", quite a funny movie. what is your blood type? here is a test to check which type you are...
if you saw your wife having an afair with a stranger when you just came back home... you are standing outside the door and from the window you could guess what is happening inside by their shadow. what would you do?
you don't know what to do holding the door nob
you kick the door open to kill the guy who was having an affair with your wife
you hide yourself and steal a look to enjoy the intimate scene
you just call a cop to report without any second of hesitating. (to help your understand, in korea you can report your spouse's unfaithfulness to police)
so what is your choice? if you chose #1. you are helpless A type. you are bad at making decision but your heart is very sincere. if you chose #2, your blood type is O. you are very straight-foward and passionate (actually most prefered blood type). oh your choice is #3? you are AB. you are considerate but have two faces. then the last #4 is type B. you are mean and idle. you don't take love seriously. love is just for fun to you.
oh, is your boyfriend type B? then watch this movie.. you just may figure out how to make your type-B boyfriend lose his mind with love for you :):)
i'm changing the subject, but isn't AB the worst? to steal a look at his wife having an affair?
i am afraid i am turning into an insomniac. for the past two months i've been falling asleep due to sheer exhaustion. i'd be on the computer, reading a novel, or working on an assignment till the wee hours of the morning. and then, when the eyelids refuse to keep blinking, i'd reach up and turn off the lamp and drift off to dreamland. but now, here in toronto, i have virtually nothing to do. no assignments, no internet, only novels and a seemingly infinite supply of seconds. if only this monitor had been able to go above 800x600 and cover the entire screen horizontally, i'd be making sometihng.
a lame excuse maybe ? not really. i had to watch all 12 episodes of Geat Teacher Onizuka on this thing and unfortunately this machine cannot play DivX above 320x200 resolution !! ah the pain....
it's 1:31 right now. today will be my last day in TO. i take VIARail back to OTT on the 3rd. it leaves in the afternoon and takes about 5 hours to reach ottawa. the service is really good. during the trip here they kept bringing food all the time. first some fruits, then breakfast, then beverages, and finally some chips/peanuts. my first experience as a First Class passenger.
the WinterTerm starts from 3rd january too. i have not yet selected my fifth and sixth course for this term. have to pick some electives because anything else will be a huge burden on top of the ine math and three compSci courses. maybe psychology ? or another religion course ? we'll see.
yahooGames :: bine + snot = i lost (gah)
saw Lord of the Rings yesterday with thrawn. what a wonderful depiction of the Tolkein universe. i think this is the first time a movie has lived upto to the novel. i found only two objections in all 178 minutes of it : the episode where Frodo offers Galadriel the Ring was weird.. plain weird, and second, they did not show Galadriel give the Fellowship the famous Elven Cloaks. i wanted to see what they look like. other than these two complaints, the movie was flawless. the orc in the Mines of Moria, the Shire, the RingWraiths, the fellowship [Aragorn, Boromir, Legolas, Gimly, Gandalf, Merry, Pippin, Sam, and Frodo], Mordor and the Mount of Doom, everything was perfect. i have to start reading The Two Towers now. the second installment in the trilogy comes out in December 2001... sooo far away :(
have to take pics of the house from outside tomorrow. naraku's AGFA cam works perfectly in the morning when there's enough light around. also, have to goto CanotekDrive to take a snap of that hillarious company logo.
Alfred Bester's The Demolished Man is a very interesting novel. it must be spectacular being a telepath. imagine having a perfect understanding between yourself and someone else...... you and the one
i'm going to miss all when i go back.
sleep.
now.

Have you ever written in the dark before ? It feels really weird. Right now I can just see my hands moving on a white sheet. I can barely see the dark shapes that I am making on the face of this page.
Anyway, paa came in the room at 1 AM and told me to go to sleep. I said sure. Turned off the computer and then went to bed. And now it is 2:16 AM and I still haven't fallen asleep. So, I said, "what the heck, let's start writing again". And that's what this is.
So, how was today ? Pretty good I should say. I woke up at around 2. Maa and Paa were worried that we haven't been able to spend time together lately. They went to Montreal about 3 days ago and came back late at night. The next day they went to Toronto. They spent the night there. Came back and then immediately went to Shaheen family's house. I have started to dislike them now for oh-so-many reasons.
Anyhow, I got up and Paa, Maa left to meet Mr. Shaheen again. Shekhar called and we decided to go watch a movie. Today was Saturday so the ticket was for $6.50. He arrived at 3:50 PM and I told him about my new record of staying online: 12 hours and 38 minutes.
We called Tanvir and asked him if he wanted to join and said sure. So, we left to go to Merivale Mall and bought OC Transpo bus tickets. 10 tickets for 7 dollars and 50 cents.
On to South Keys cinema via Bus #176. Bought the tickets and then popcorn. We watched There's Something About Mary. It was hilarious. So damn funny. "We have a bleeder", "Is that hair gel?" After that, we sneaked into Ever After: A Cinderella Story. Tanvir wanted to watch that and so did I. Drew Barrymore was awesome in the movie.
Got home around 10:30. Then I drove and took Shekhar to his house: 20 Drewberry Crescent.
Dinner was koftay (meatballs). Read a little bit of I, Asimov. Thrawn played Quake. Then I went on ICQ at 12:45. Paa told me to go to bed at 1. Now, I'm just lying here.
Listened to Re-United after a long time. Wow, its 2:26 AM now.
God, when am I going to sleep. Skid is visiting from Toronto on the 23rd. Together again after 2 years.
School will be starting soon as well.
Okay, later.