I haven't posted a music video on this blog until now. hoppípolla, which means "Jumping into puddles" in Icelandic, is a superb song by sigur rós. amazingly enough, the music video is just as great. you can find the lyrics to the song on this website. enjoy!
Introducing the ipod shuffle. Amazingly small with 512 MB of mp3 goodness. Shuffle it up... or play sequentially. Charge on dock... or though a USB port. Place in pocket... or hang around your neck. Protect in a case... or let it be free.
when i was grade 3 or 4 i took piano lessons for a while but i quit soon because i didn't enjoy it so much. now i forgot everything about piano. i regretted it a lot when i saw my friend play piano so well a few years ago.
so i started to have piano lesson which i have wanted to do for so long. especially after sikander left korea, i need something to focus on and feel happy about it. i searched several piano lesson places and found one very near my house. it opens until 10 pm, monday to friday which is very nice for me because i can go there even though i finish work late.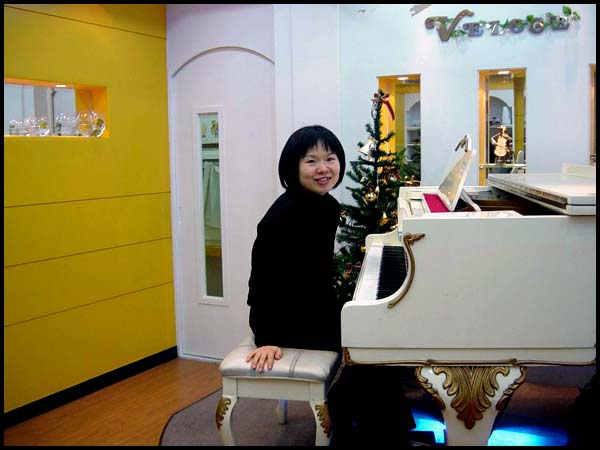 i was so surprised that i still remember some stuff on the piano music book. when i was a little little kid, i didn't realize how nice piano sounds, and now even with my clumsy broken piano skills, the sound is still very impressive to me :) :) who knows one day i play this music (george winston's canon) with my ten fingers.