Earlier this month I mentioned on Shack about how I was worried I might scratch the huge LCD screen on our new Canon SD 700IS. Dodob read the post and was nice excellent enough to send me an LCD screen protector all the way from Taipei. How cool is that :D
lunato was making some doughnuts the other day when visiting my parents' house. i took some of the extra dough and i made a shacknut!
January 19th 2005 was one of the coldest winter days of the year for seoul city but it was also the scheduled day for the first South Korean Shackmeet. for those who don't know, seoul is the capital of south korea and is quite a mountainous region as you can see in this picture.
lunato's work finishes at 6 pm so i wrapped up my work for the day and left the hotel at around 5:30 to reach her office on time. i took the subway to get to her office because i love subways. transportation is extremely cheap when compared to north american prices. the stairs to the subway stations in seoul just keep going down and down and down... some shopping malls have 8 levels of underground parking !! crazy !! the big subway stations where more than one of the 10 subways lines intersect each other look like some sort of space ship hidden underground just waiting to emerge and wreak havoc when the north koreans attack. the airport is pretty damn cool as well.. but i'll get to that later
i picked up lunato from her work place and met her coworkers there. they were very nice and one of the supervisors gave me a 2005 Philakorea (a World wide stamp exhibition held in South Korea each year) stamp booklet and some seaweed (no really .. fried and salted seaweed is awesome).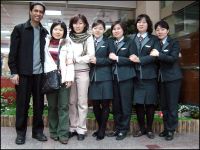 after saying goodbye we were on our way to meet xphil near Gangnam subway station. we were supposed to meet near Exit #7 and we arrived there on time.. but no xphil in sight. well i didn't really know what he looked like either. i tried to imagine what a korean shacker would look like but i had no idea how to imagine that.. so lunato and i just stood there and tried to guess who he might be. there was one korean guy wearing a baseball cap standing near the exit stairway and he kept looking my way every now and then so i kept looking back occassionally as well... but he started to walk away as soon as lunato and i decided to walk towards him and ask him his name. foreigners are quite rare in seoul and i guess i must've scared him off when i started towards him. after a few minutes we thought it best to call him and ask where he was. it turns out that he was waiting for us at the top of the stairs while we were waiting for him at the bottom :P
xphil is much much taller than i imagined. actually he's much taller than the average korean male. after the initial "hey hello how are you and what do i call you", we started walking away from the subway station with no specific destination in mind. since it was evening time and all of us had just finished work, we were quite hungry and decided to go somewhere for food. it was freaking cold outside anyways. there were lots of restaurants in the area and it took us some time to decide where to go. xphil didn't really care what kind of food it was as long as he was inside and not outside in the cold. it was only -4 or -5 hah.. canadia goes down to -40s during winter my friend ! eventually we found a restaurant called Bong Chu Boiled Chicken and since i dont eat pork, it seemed like a good choice. and indeed it was.. the food was awesome.
we talked about what games we're playing ( lunato's one and only game is Zuma but she enjoys watching me play Rocket Arena III or Counter Strike or whatever ) , our impressions of half life 2, best moments of half life 2, WoW and i explained how i dont like MMORPGs because they take up far too much time, tv shows (he hasn't seen Sopranos... wtf ... and i haven't seen 24... wtf ), video cards, and how we found the shack; lunato though me, i through bookmarks folder in my older sibling's computer, and xphil while he was working as a gaming journalist of some sort.
we kept eating, drinking, and talking till around 9 pm. xphil's ride home would take about an hour and tomorrow was another work day so we decided to say tatahs at that point. we went home while lunato and i explored a little more of seoul before taking the bus back and retiring for the day. it was a fun evening and we made shack history together :)
and finally, here are the Incheon Airport pictures
#2314 By: Shadore66
I call this one "Shadore66 fumbles horribly in front of females part XXXVIII"
Ok so the only thing I had to do today was go to Sears and pick up a package that had come in. Groovy. So I walk in the door and insted of the usual 47 year old troll working there I see this girl who i went to Highschool with. A nice little short hardbody with this great set of blone hair and cute little glasses. Yeah.
So I walk up to the counter and say "hey" (it's one of those things where we both know we know each other but no one really says anything) and she gives me a shaky "hi". Why it's shaky, I don't know. So she asks "What's the lst 2 digits of your phone number?" This is where it goes downhill.
I say "(my last name)". She kinda blinks and repeats "no the last 2 digits of your phone number" I stutter and think to myself "wtf? wtf? wtf?" So then I tell her my ENTIRE phone number. swish. She kinda blinks again and then goes off and gets the package.
Then when she comes back she gets me to sign this piece of papaer and as I go to put my hand down on it I accidently push on the edge of it to hard and it blows on the counter ONTO HER CHEST. yes. on her chest. She kinda looks down and peels it off her breasts and places it back down in front of me like shes giving it to a 2 year old. I quickly scratch my name down and quickly turn around to leave.
AS I'm leaving I'm about to open the door when her boss comes into the room right at the same time and smacks me right in the face with the door. He goes "oh god i'm sorry" and puts his books down to help me but I wave him off holding my nose and get in my car. As I'm driving off I see the girl mouthing something to me from inside but I couldn't tell what it was.
Now I do, I get home and realize that I dropped my package when the door hit me and its still sitting @ Sears.